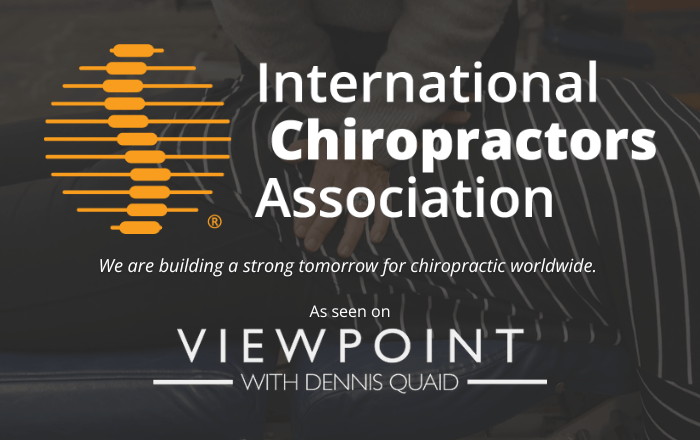 Watch the Segment on Viewpoint with Dennis Quaid
The International Chiropractors Association (ICA) celebrated the 128th anniversary of the founding of chiropractic as a profession by launching a public media campaign to share the message of chiropractic.
The first segment of the yearlong campaign aired on Viewpoint with Dennis Quaid, a new series airing on public television stations across the country. It can be seen here. A 30-second commercial can be seen here.
The ICA Message is a 4-minute video featuring several of the profession's leading doctors sharing chiropractic. The goal of the campaign is to raise awareness of chiropractic as a separate and distinct health care profession predicated on its own science, art, and philosophy, to promote regular chiropractic care as a part of whole person health promotion, and to promote chiropractic as a profession.
Contributing to the Viewpoint segment are:
Selina Sigafoose Jackson, ICA President
Kevin Jackson, ICA Member
Charmain Herman, ICA Board of Directors and Life University faculty
Kristen Welsh, US Air Force Veteran and ICA Member
Rob Scott, Life University President
"Every day in our practices, we see the miracles that identifying the vertebral subluxation and correcting it through the chiropractic adjustment bring," said ICA President Dr. Selina Sigafoose Jackson. "[Chiropractors] respect the body's own innate ability to recover, heal, function, and maintain health by eliminating the subluxations through the adjustment. In doing so, we free up the body to do what it was designed to do – seek optimal wellness. We want everyone to have the opportunity to experience chiropractic care…"
Sources:
ICA Press Release, "The 128th Anniversary of the Founder's Day of Chiropractic – Launching ICA's Television Campaign," September 18, 2023
ICA Press Release, "The ICA Chiropractic Message to Air on Public TV Stations for a Year," September 19, 2023