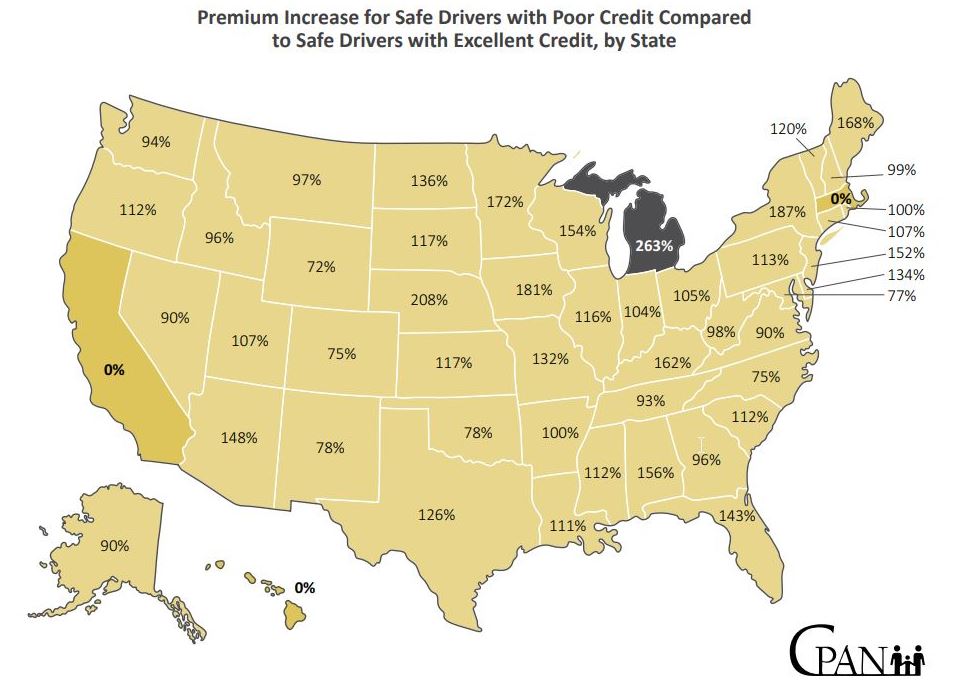 Michigan is the worst state in the country for penalizing drivers based on their credit information, a discriminatory practice that disproportionally impacts low-income consumers and people of color.
A new report from the Consumer Federation of America found that safe drivers in Michigan with poor credit pay much more than safe drivers with excellent credit. In fact, according to the report, the average auto insurance premium in Michigan for someone with poor credit is $2,667, compared to $1,439 for someone with fair credit and $734 for someone with excellent credit. That is a 263% average premium increase for consumers with poor credit compared to those who have excellent credit – all other rating factors being equal.
"Using credit information to determine auto insurance premiums is discrimination, pure and simple – it's effectively modern-day redlining," said Tim Hoste, president of CPAN, the consumer advocate for Michigan auto insurance policyholders. "There are countless reasons for people to have imperfect credit. Some people suffer serious medical incidents and have no choice but to declare bankruptcy. Some lose their job through no fault of their own. Even worse, credit information is notoriously biased against low-income and minority communities. It's time for the Legislature to revisit the auto insurance law and fix what's not working."
Nationwide, the report found that consumers with fair credit pay premiums that average 49% higher than the premiums paid by consumers with excellent credit. Consumers with poor credit pay 115% more than consumers with excellent credit and 44% more than those with fair credit.
"On average, a consumer with poor credit has to pay twice as much for auto insurance as a driver with excellent credit, even if everything else, including their driving safety history, are the same," said Douglas Heller, CFA's Director of Insurance and the study's co-author. "Not only is this unfair to safe drivers, because of longstanding and institutional biases, the use of credit history for insurance pricing leads to disproportionately higher premiums for lower-income drivers and people of color.
2019 Auto No-Fault "Reform" Law: Massive Loophole Allows Practice to Continue
The disparity exists even though the 2019 auto no-fault "reform" law technically barred auto insurers from using credit scores to set rates. However, the legislation allowed for the use of "credit information" – essentially the same as a credit score – to set premiums, a massive loophole that allows the practice to continue.
Additional Reforms Needed
The report noted that Michigan could implement the following reforms to protect consumers:
Michigan lawmakers should prohibit the use of credit information in setting auto insurance rates or determining eligibility for a policy.
The Michigan Department of Insurance and Financial Services should devote more resources to analyzing insurer rate and rule filings and reject company plans that unfairly discriminate through their use of credit-based insurance scores.
Michigan should enact reforms to combat unfair discrimination and bias in insurance and in information, data models, and algorithms that insurers use.
Hoste noted that ending the use of credit information in setting auto insurance premiums would represent one step toward fixing the 2019 auto insurance law. A study from the nonprofit public health institute MPHI found that as of April 2022, the 45% cut in catastrophic care and 56-hour per-week cap on family-provided attendant care included in the 2019 law had caused:
Nearly 7,000 patients to be discharged from care
The loss of more than 4,000 health care jobs
The closure of more than 30 businesses
"We're not asking to overturn the 2019 reforms," Hoste said. "We're only asking for narrow, reasonable fixes that would protect consumers, lower rates, and ensure that catastrophically injured crash survivors get the care they need. No more excuses."
Sources:
CPAN Press Release, "Michigan Is the Worst State in the Country for Penalizing Drivers Based on Credit Information," August 28, 2023
Consumer Federation of America Report, The One Hundred Percent Penalty: How Auto Insurers' Use of Credit Information Increases Premiums for Safe Drivers and Perpetuates Racial Inequality, Heller, Douglas, and DeLong, Michael, July 31, 2023