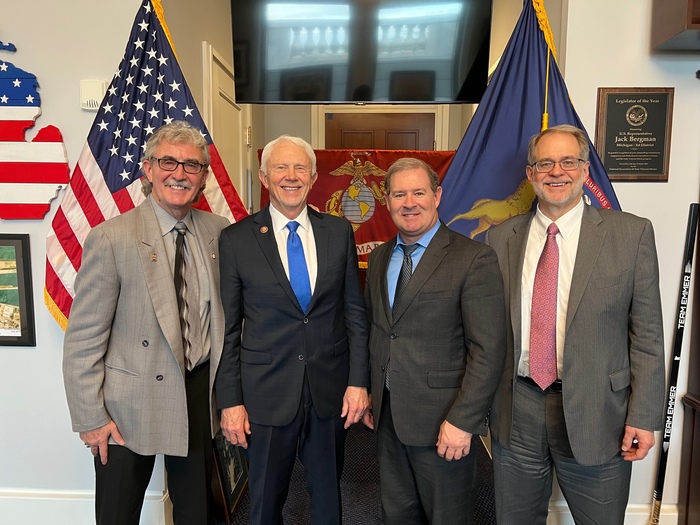 MAC Leaders Meet with Michigan Congressional Delegation to Discuss Upcoming Medicare Legislation
Legislation to modernize chiropractic coverage in Medicare will soon be introduced! Stay tuned and learn how YOU and YOUR PATIENTS can get involved in the fight for increased patient access to chiropractic care.
In late January, key members of the MAC leadership team joined hundreds of chiropractors, students, and other chiropractic supporters to educate their federal lawmakers on the need for modernization of chiropractic coverage in the Medicare program. MAC President Dr. Robert Markle of Bay City, joined by Director of Financial Affairs Dr. M. Douglas Lynes of Portage, Board of Directors member Dr. Lewis Squires or Scottville, Government Relations Committee Chair Dr. Chris Dolecki of Lake Orion, and Director of Government Relations Carl Alden shared their cohesive message about the importance of increasing patient access to chiropractic services. This legislation would allow chiropractors to practice as allowed under their state's scope of practice and help Medicare beneficiaries access the full range of the chiropractic profession's effective and cost-efficient services, saving patients and the Medicare system valuable resources.
The offices of Senator Debbie Stabenow, Senator Gary Peters, and all 13 Michigan U.S. House members were visited, spreading the word about chiropractic in the Medicare system.
The Issue
Medicare serves more than 55 million Americans, including more than 2 million Michiganders. Unfortunately, since chiropractic became a Medicare benefit in 1972, undue limitations have been placed on beneficiaries who see a chiropractor, and they have been cut off from receiving most chiropractic services due to the system's antiquated coverage of chiropractic care, which only allows one service – manual manipulation of the spine to correct a subluxation.
This limitation has now persisted for more than 50 years with no scientific or valid policy basis.
Legislation that would ensure Medicare beneficiaries have full access to all the Medicare-covered services a chiropractor can provide under his or her state's chiropractic scope of practice has been introduced in the previous two Congresses. In Michigan, this would include such services as manipulation of the spine and extremities, evaluation and management services, diagnostic imaging, and utilization of other non-drug approaches that have become an important strategy in national efforts to stem the epidemic of prescription opioid overuse and abuse.
During the last Congress (2021-2022), the Chiropractic Medicare Coverage Modernization Act gained 155 co-sponsors in the U.S House of Representatives – 78 Republicans and 77 Democrats, proving the bipartisan appeal of the bill. In the U.S. Senate, the bill gained six co-sponsors.
Unfortunately, since the bill did not pass during the last session, it will have to be re-introduced in this session of Congress. Plans are being made at the national level to secure initial sponsors and develop the plan for the ultimate passage of this important legislation.
Modernizing chiropractic coverage in the Medicare system would remove barriers to care, support beneficiaries and the Medicare system, and level the playing field for chiropractic physicians. Increasing patient access to the cost-effective, efficacious services provided by chiropractors – services that are already covered when performed by other providers – will greatly benefit Medicare patients.
We will inform the profession once the bill (or similar legislation) is introduced this Congress. Stay tuned!